Alessandra Ambrosio Biography: Brazilian Supermodel and Leggy Youngster.
Alessandra Ambrosio is one of several Brazilian models that hit the international scene in the late 1990s. With faith in herself and sheer dedication, Alessandra Ambrosio made it to the top of her career as a supermodel in acting, fashion design, and television personality.
All thanks to her elegant appeal, hourglass figure, and fanciful attitude, which assisted her in achieving a highly successful career.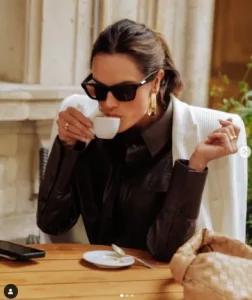 Remarkably, she was the first female model to feature in 'Made in Brazil,' a leading fashion glossy exclusively for male models of Brazil.
Alessandra rose to prominence worldwide in 2004 when she became one of Victoria's Secret Angels and the first-ever brand ambassador for its PINK line in 2004.
Get to know:
Biography of Alessandra Ambrosio
Here is the information you need about Alessandra Ambrosio, a Brazilian bombshell supermodel.
Alessandra Early Life and education
Career
Achievements of Alessandra Ambrosio
Alessandra Ambrosio Net Worth
Awards and Achievements
Relationship
Alessandra Early Life and Education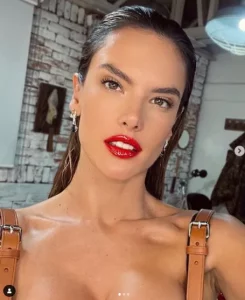 Going by her full name, Alessandra Corine Ambrosio was born on April 11, 1981, in Erechim, the Rio Grande do Sul, Brazil.
She was born to Lucilda and Luiz Ambrósio, petrol station-owning parents and sister, Aline Ambrósio. They are of Italian, Polish, and Portuguese ancestry.
At a very young age, precisely when she was eight years old, she had already decided to be a model after being inspired by a picture of top Covergirl Karen Mulder in a magazine. All she ever wanted was to be like her.
The picture led her to undergo plastic surgery when she was 11 years old to pin them back because she felt shy about their large size. This act only resulted in complications two years later.
This passion for modeling became her education as she had to take up local modeling classes at the age of 12.
Her passion for modeling facilitated her participation in Brazil's legendary 'Elite Model Look' competition two years later in 1996, and she landed among the 20 finalists.
Alessandra Ambrosio Instagram
With over 10 million followers, Alessandra Ambrosio is an Instagram star. You can follow her through her official Instagram page. In 2022, the Instagram star has made over 6k posts, mostly photos of herself.
Career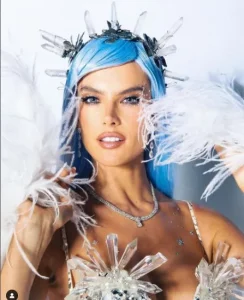 In her career, she never struggled for opportunities in the fashion world. She has appeared in over 70 international magazines and editorials on the cover pages.
Alessandra began modeling first for Dilson Stein at the age of 15, who's known for discovering top models – Gisele Bundchen and Caroline Trentini.
However, her first professional modeling job appeared on the cover page of Brazilian Elle magazine. Through this, her modeling job took the right path.
No sooner than later, she began to be noticed by leading modeling agencies and fashion designers in the international scene. She was after that signed by Guess, a denim brand for its Fall 2000 Millennium Campaign.
Achievements  of Alessandra Ambrosio
In this article  Alessandra Ambrosio Biography, we'll list her numerous achievements so far:
In 2000, American lingerie brand 'Victoria's Secret' could not resist but hired her and made her runway appearance at its fashion show.
In 2004, she launched her swimwear line, Alessandra Ambrosio by Sais, as a division of Rosa Cha. It was well-received, and 10,000 units of her swimwear line were sold in its first month.
In 2005, She also modeled at Victoria's Secret Fashion Show again, dressed in lingerie made completely from candy.
In 2006, she made her first formal appearance on the silver screen with the hit James Bond film 'Casino Royale,' playing the role of a tennis player.
After that, she made special appearances on television as she did in 'Entourage,' 'Late Night with Conan O'Brien,' 'The Late Late Show with Craig Kilborn,' 'The Tyra Banks Show' and 'Project Runway.
In 2007, She played in 'The Yips' episode of 'How I Met Your Mother' drama series.
The drama series was alongside her fellow Victoria's Secret Angels – Miranda Kerr, Adriana Lima, Marisa Miller, Heidi Klum, and Selita Ebanks.
In 2009, she appeared alongside Sacha Baron Cohen on the cover of Marie Claire's July edition to promote his film 'Bruno.'
Brazilian sportswear company, Colcci, featured her in an ad campaign for its Spring/Summer 2012 collection. She became the brand's new face and was alongside the American model-cum-actor, Ashton Kutcher.
She later introduced her fashion and lifestyle brand, Ale by Alessandra, in partnership with US retailer Cherokee. T
hey offered a range of young women's formal wear specifically for 18-25 years.
Alessandra also availed herself to be the National Multiple Sclerosis Society ambassador. They are involved with rendering help to the needy through public announcements and using her name and image.
Now let's go by the major forms her career took.
Read also: Kim Seon Ho Biography: A Sharp Investor In tvN Drama.
Alessandra Brand Ambassadors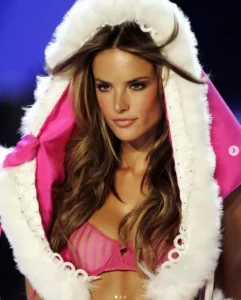 Alessandra has been the face of several big-name brands, such as:
Christian Dior.
Rolex.
Armani Exchange.
Revlon.
Ralph Lauren.
Calvin Klein.
Giorgio Armani.
Escada.
Moschino.
Dolce & Gabbana
Fendi and Next.
Various high-profile designers she has ramp-walked for include:
Prada
Louis Vuitton
Chanel
Oscar de la Renta
Marc Jacobs
Kenzo
Vivienne Westwood
Giles Deacon.
Various fashion magazines she has featured as a cover model includes:
Marie Claire
Vogue
Cosmopolitan
Harper's Bazaar
Ocean Drive
Lui
Wiener
Self
GQ
Elle
Flair
Vanity Fair
Russh
Numero
Grazia.
High-end editorials she has appeared include:
S Moda for El Pais
Ocean Drive
Lui France
Vogue
Glamour
Love
Harper's Bazaar
Interview.
Various international model agencies she has worked with include:
DNA Models (New York)
Way Model Management (Sao Paulo), Viva Model Management (Paris and London)
Priscilla's Model Management (Sydney).
She was the host of award shows, like The MTV Music Awards and Fashion Rocks.
Alessandra Ambrosio Net Worth
Through her successful career, she has accumulated a net worth of $70 million for herself.
 Alessandra Awards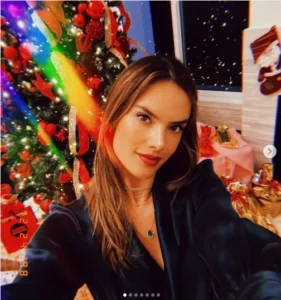 She has achieved a whole lot in her career, which includes:
In 2005, she ranked number 84 in the '100 Sexiest Women in the World' list by FHM magazine.
However, she was upgraded to 56 in 2006.
In 2007, she was included in The People's magazine '100 Most Beautiful People in the World' list.
AskMen.com voted her at number 2 on the 'Top 99 Most Desirable Women of 2008′ list.
In 2010, Forbes' list ranked her at number 5 on their list of 'The World's Top-Earning Models, with an estimated revenue of $5 million that year which was later upgraded to number 6 in 2012 with annual earnings of $6.6 million.
In 2014, The Maxim magazine listed her at number 51 on its 'Hot 100' people. Ambrosio Maxim magazine was later moved to position number 7 in 2014.
Is Alessandra Ambrosio Dating?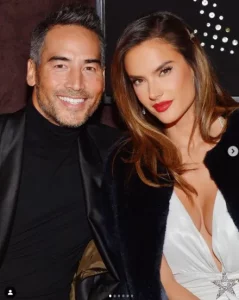 Who is Alessandra Ambrosio dating? She was dating fellow model Marcelo Boldrini in 2001, but they broke up in 2005.
She got into another relationship with a Brazilian magazine editor, Steve Allain, in 2005, but their relationship lasted only a few months.
In late 2005, she met California-based businessman Jamie Mazur. They dated for a few years and engaged in 2008.
Currently, they are blessed with two children – Anja Louise Ambrosio Mazur (daughter ), born in 2008, and Noah Phoenix Ambrosio Mazur (son), born in 2012.
Read more: Nonie Creme Net Worth, Biography: Stunning Business Visionary And Reality TV Star.
 Alessandra Ambrosio Biography: Brazilian Supermodel and Leggy Youngster.