Ana Cozar is one of those celebrity athletes who has become a professional bodybuilder, bikini athlete, and fitness model and trainer. She has earned thousands of followers on her social media accounts.
She has won many competitions in her career, even in her first time at the 2009 Ms. Rio competition.
Ana Cozar Social Media Presence
Ana Cozar is highly active on social media. Her social media accounts include Instagram, Facebook, and YouTube.
Ana Cozar Instagram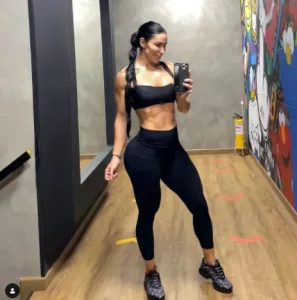 Ana Cozar has a verified Instagram page @espana927 with over 3.1 million followers. She is very consistent in uploading fitness photos and videos of herself. Moreover, She has become an Instagram influencer and advertises fitness products for different brands and her brands through her page. There are very many who are interested in her recommendations because she has become a fitness model.
You can also read about Corinne Foxx, Dan Estabrook ( Megan Boone Husband), and Georgina Gentle.
Ana Cozar Facebook page
Ana Cozar has a verified Facebook page, @espana927corp, with over 260k followers. She is popular for her fitness outfits and training, so she can be the right fitness model for you if you are looking to work on your weight.
Ana Cozar YouTube Channel
With about 3k subscribers, Ana Cozar YouTube Channel is full of many videos of herself at the gym a. The essence of her frequent post on YouTube is to display her outstanding stature to the viewers and to encourage the viewers on the possibility of building themselves to their desired shape. Her sponsors also post her on their various accounts.
Ana Cozar Sponsors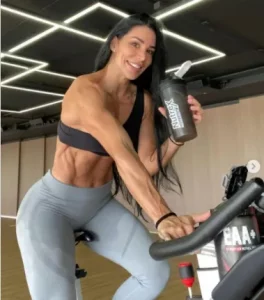 After that, she was sponsored by various companies, including Corset Espana; dealing on different corsets for competitions, events, or fitness; Nutrex Research, a dietary supplements company initiated in 2002, pioneered the release of liquid capsules.
RyderWear, an apparel company situated in Australia, concentrating on delivering fashionable items that are still suitable for fitness, is also one of her sponsors.
Ana Cozar Personal Life
We cannot feed your curiosity regarding Ana's personal life at the moment because she has kept it to herself for reasons best known to her.
Therefore, according to some sources, she is not certain if she is single in any romantic relationships or engaged, and it led to many assumptions as expected of any celebrity. Until it is confirmed, such information is currently unavailable.
However, she revealed to be inspired by retired bodybuilder Ronnie Coleman, one of the greatest bodybuilders of all time. For eight years, he held the title of Mr. Olympia.
Ana Cozar Net Worth
Ana Cozar net worth or total assets is estimated to be $800k. Her various endeavors, such as modeling and other opportunities that came her way, have contributed greatly to her net worth.
Ana Cozar Bio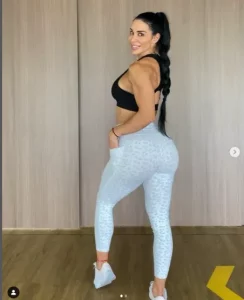 Early Life
Ana Cozar was born on September 27, 1981, in Madrid, Spain. Ana seems to be a bit secretive about her early life as we don't have ready information about that.
Questions such as details about her parents, any siblings, education, ethnicity, or even religion might be popping in your head; unfortunately, they are currently unavailable but will be provided once they are disclosed.
Ana Cozar Age
Ana Cozar will be 41 years old in 2022. Her birthday is on September 27of every year.
Fitness Career
Ana Cozar became interested in athletes when she was young, and at 16, she decided to go for kickboxing.
On realizing her inability to compete with other fighters as a young girl, she ventured into weight lifting at the gym to enhance her body.
Her decision resulted in her becoming an outcast in school because of her muscular stature and faced criticism.
Fitness Competitions and Achievements
Because of her determination, Ana did not give in to criticism but became more committed to realizing the body of her interest.
With more concentration on her legs while training, she achieved her desire remarkably, which was a stature that helped her participate in the competition as a bikini athlete.
Her first competition at the Ms. Rio show was in 2009 when she was 28 years old, and she also won the best prize. It became her motivation to do even more by expanding to a professional bodybuilder and a fitness model.
Ana, in high spirits, did not stop developing her body. Her physique after that granted her the opportunity to compete in the International Federation of BodyBuilding and Fitness (IFBB) competition as a part of the physique category.
It was also her first time in such a competition, and she came out best. So, it assisted her in obtaining a Pro Card, which certifies her profession.
Online bodybuilding and fitness modeling
Ana became a famous bodybuilding and fitness model. Frequently on her Instagram page, she keeps displaying developments in her body and uploading photos and videos of her gym work.
Who is Ana Cozar Dating Now? | Ana Cozar Husband
Currently, Ana Cozar is not dating anyone.