Kevin Hart Net Worth, Biography, height, and Movies: American Stand-up Comedian and Actor.
Records have it that Kevin Hart's success in his career today suffered a slow beginning. As an upcoming comedian, he was booed off stage several times, and even had a piece of chicken thrown at him.
Who is Kevin Hart? Kevin Hart is a comedian, actor, producer, and writer who is popular for intelligence (2016), Ride along (2014), Grudge Match (2013). Kevin Darnell Hart was born on July 6, 1979, in Philadelphia, Pennsylvania, United States of America (USA). He is the Husband of Eniko Parrish whom he's been married to since August 13, 2016, with a son.
What did Kevin Hart do? He never gave up but pushed further to actualize his dreams. He may not have been famous today if had given up because of the challenges and storms that go with his career.
Kevin Hart is a man who has shown that we only need to embrace our challenges so as to achieve success.
Kevin Hart Net Worth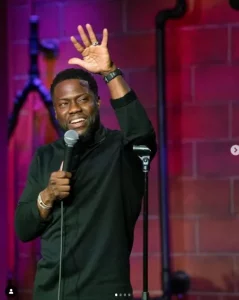 Kevin Hart is one of the top richest Celebrities in the world with an estimated net worth of about $200 million.
Get Know:
Biography and Net Worth of Kevin Hart
Here are the things you need to know about Kevin Hart, an American successful stand-up comedian, and Actor.
Kevin Hart Childhood and Education
Career
Achievements
Kevin Hart Movies
Awards
Marriage Life
Net Worth of Kevin Hart
Kevin Hart Childhood and Education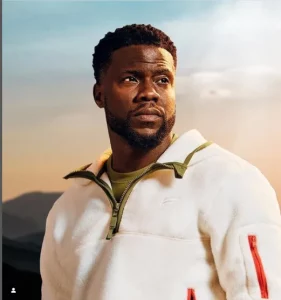 Kevin Darnell Hart was born on July 6 1979 in Philadelphia, Pennsylvania, in the United States of America. His parents are Henry Witherspoon, and Nancy Hart.
Nancy Hart was a systems analyst for the Office of Student Registration and Financial Services at the University of Pennsylvania.  She raised Kevin alongside his elder brother, Robert single-handedly.
Kevin passed through emotional stress because of the situation in the family and decided to use humor as a means of coping with his family situation. In the process, he discovered his inherent talent for performing comedy.
He first attended George Washington High School and later proceeded to Community College of Philadelphia where he studied for just a short period of time and dropped out.
Kevin Hart later worked for some time as a shoe salesman when he relocated to Brockton, Massachusetts.
However, his performance at an amateur nightclub in Philadelphia prompted him to decide to pursue a stand-up comedy career full time.
Kevin Hart's Career
Kevin Hart began his career as a comedian under the name of Lil Kev, in his first gig at The Laff House in Philadelphia.
It is worthy to note that his initial gigs were not successful at all and it took him time to maintain comedy style but he resorted to a mentor in a veteran comedian, Keith Robinson and he coached him.
Later, he started doing well and began to perform under his own name, and in a space of a few months, he was now on a regular performance in clubs all over the country.
However, his comedy tours began in 2009, with his act 'I'm a Grown Little Man,' 'Seriously Funny' in 2010, 'Laugh at My Pain' in 2011 and 'Let Me Explain' in 2013.
These last two were also released as features in movie theatres and three comedy albums as well.
Kevin Hart Achievements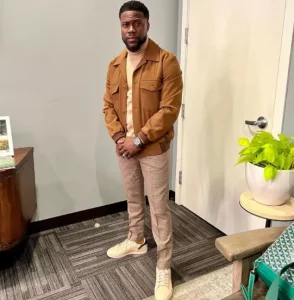 On April 9, 2015, another comedy world tour titled the What Now? Followed suit. It was a Tour at the AT&T Center in San Antonio, which concluded on August 7, 2016, at the Columbus Civic Center in Columbus, Georgia.
The show was later filmed live in front of 53,000 people, at Philadelphia's Lincoln Financial Field on August 30, 2015, that same year.
The acting was another career for Kevin, which he started in 2002, with a guest appearance in the American sitcom 'Undeclared', created by Judd Apatow. This made him prominent.
That same year, however, he made his film public appearance, with the main role in the comedy film 'Paper Soldiers'.
More recognition came his way in the 2003 comedy horror film 'Scary Movie 3', the third film of the Scary Movie franchise, 'Death of a Dynasty'.
2004 was his appearance, taking a lead role in the comedy film 'Soul Plane', 'Scary Movie 4', the fourth film of the Scary Movie franchise.
Kevin Hart Movies
More films continued to bring him to prominence. They include:
Epic Movie, 2007
Superhero Movie, 2008
Not Easily Broken 2008
Death at a Funeral, 2010
Little Fockers, 2010.
Think Like a Man, a 2012 romantic comedy film, earned more than $96 million.
Grudge Match, sports comedy film alongside veteran actors Sylvester Stallone and Robert de Niro.
Ride Along, 2014, action comedy film and took the lead role.
About Last Night, 2014, romantic comedy film.
Get Hard, released in 2015,
Central Intelligence, 2016
The Secret Life of Pets, 2016.
Captain Underpants: The First Epic Movie', released in 2017 and took a lead voice role in the animated film.
Upside, 2019 comedy-drama film. He took the main role.
Comedy adventure film 'Jumanji: Welcome to the Jungle. The film earned nearly $1 billion at the box office and was met with mostly positive reviews from critics.
Fatherhood, 2021.
Awards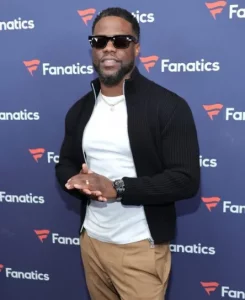 He has received several awards in his career, such as the:
Teen Choice Award – 2004, 2012 and 2019
BET Award – 2005
People's Choice Award
NAACP Image Award – 2017
Nickelodeon Kids' Choice Award
MTV Movie and TV Awards- 2014, 2016, and 2018.
Kids Choice Award – 2020
Prime Time Emmy Award – 2021
Kevin Hart Marriage Life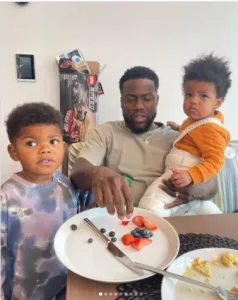 Is Kevin Hart Married? Kevin Hart actually got married twice. His first marriage was with Torrei Hart in 2003 and their union was blessed with two children, but they divorced in 2011. He later got married to Eniko Parrish on August 13, 2016. They have one son who was born in November 2017, named Kenzo Kash.
Kevin Hart height
How tall is Kevin Hart? Kevin Hart is 5ft 2 inches tall. He is very confident and not intimidated by his average height.
Read also: Top 7 Online Dating Tips For Beginners
Kevin Hart Net Worth, Biography and Movies: American Stand-up Comedian and Actor.