Biography of Kareem Abdul-Jabbar: One of America's greatest Basketball players.
You are welcome to koksfeed
Abdul Jabbar Kareem in the course of his career has established himself as one of the most talented and masterful figures. This is not just in basketball but also in acting and writing.
Today he is popularly known as the greatest Basketball player from America, basketball coach, and a top-selling author.
Biography of Kareem Abdul-Jabbar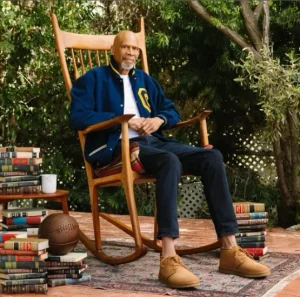 We are going to make a careful detail of the Biography of Kareem Abdul-Jabbar. Here are the things you need to know about him and his successful career.
Early Life and Education
Career
Achievements
Kareem Abdul Jabbar movies
Kareem Abdul Jabbar net worth
Awards
Marriage
Kareem Abdul Jabbar height
To know more about people, visit koksfeed
Early Life and Education
Kareem Abdul-Jabbar was born Ferdinand Lewis Alcindor Jr. on April 16, 1947, in New York City to Cora Lillian and Ferdinand Lewis Alcindor Sr. before he converted to Islam and changed his name at the age of 24 years. His current name means 'a a noble and powerful servant of Allah' in Arabic. He is the only child of his parents.
He grew up in middle-class circumstances in Inwood, an upper Manhattan neighborhood. Kareem is very tall, taller than most people when he was very young. This drew considerable attention to him.
For his education, as a Roman Catholic, he attended the St. Jude's parish elementary school. There, he was top in baseball, swimming, and ice skating.
As he grew, his height increased, and this contributed to his self-consciousness taking on the path of the basketball court. By the time he completed eighth grade, Jabbar's height had risen to six feet, six inches and he played basketball non-stop.
He later enrolled at the University of California at Los Angeles (UCLA) to obtain a degree. During the course of his studies, he won three collegiate championships.
Get To Know:
Career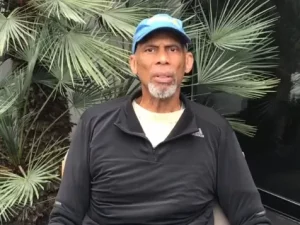 Kareem's career in basketball started early, right in school. He was heavily sourced for by many of the local New York preparatory schools.
At school in 1963, he led Jack Donahue's Power Memorial Academy team to the competition and won three New York City Catholic championships. This particular victory made them nickname him 'The tower from Power' after that.
Early in 1966, he played for UCLA under John Wooden and contributed mainly to the team's record of wins.
Despite his proven talent, he completed studying before declaring for the NBA draft.
In the first nationally televised college basketball game, his team faced Guy Lewis's Houston Cougars.
Due to Kareem's scratch on his left cornea which he suffered then, he scored only 15 points. Cougars won 71-69. This match was titled 'Game of the Century.
Abdul Kareem was taken by the Milwaukee Bucks for $1.4 million in 1969 and he led them to victory match after match for four good years. He later shifted to Los Angeles due to personal reasons where he was acquired by the Los Angeles Lakers in 1975.
Kareem was the dominating figure there in his tenure as well as leading in the number of minutes played, rebounding, and blocked shots. He won this fourth MVP award.
1976-77 was a strong season for him as he won his fifth MVP award by leading the Lakers to the best record in the NBA.
He was able to lead them to win the All-NBA Second Team twice, the All-Defense First Team once, and the All-Defensive Second Team once. They recorded remarkable success with Kareem at the center and also went on to become the most dominant team and won 5 NBA Championships.
He retired on June 28, 1989, at the age of 42 although he remained active. We can also say that his retirement launched him into doing more in his career of acting and writing.
At the time of his retirement, there are records already for most games played by a single player in the NBA, the most points scored, most field goals made, and most minutes played.
In 1990, he wrote a biography autobiography titled Kareem. In 1996, Black Profiles in Courage: A Legacy of African American Achievement co-authored by Kareem and Alan Steinberg, was released. He has also written his autobiography 'Giant Steps' in 1983 before this.
Read also: Nonie Creme Net Worth, Biography: Stunning Business Visionary And Reality TV Star
Abdul Jabbar Kareem Achievements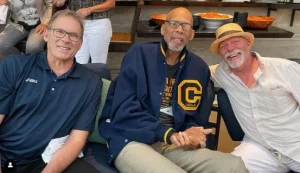 In 1991, Kareem played basketball for an exhibition team entertaining troops involved in Operation Desert Storm in Saudi Arabia.
In 1994, Kareem then played a role in the Stephen King television mini-series 'The Stand'.
He continued working as a producer and developer for motion pictures and television as well as written several books, and has constantly written and discussed issues of race and religion for national television and global magazines.
He also worked as an assistant for the Los Angeles Clippers and the Seattle SuperSonics as well as the head coach of Oklahoma Storm.
Kareem later worked as a scout for the New York Knicks before coming back to the Lakers. In 2005, he was a special assistant coach for the Lakers.
Abdul displayed in the UCLA Alumni commercial 'My Big UCLA Moment' 2007.
In 2016, he performed a tribute to Muhammad Ali alongside Change the Rapper and co-authored a comic 'Mycroft Holmes and the Apocalypse Handbook' that same year.
President Barack Obama appointed him alongside Carli Llyod and Gabrielle Douglas to the President's Council on Fitness, Sports, and Nutrition in 2017.
Kareem Abdul Jabbar movies
Some of the movies and various TV series he has appeared in are:
Fletch
Troop Beverly Hills
Airplane!
Everybody Loves Raymond
Martin
Scrubs
21 Jump Street etc.
Read also: SSSniperwolf Net Worth: Renowned Gamer, YouTuber, and Social Media Personality.
Kareem Abdul Jabbar net worth
Kareem Abdul-Jabbar, one of Great America's basketball players is estimated to have a net worth of $22 million.
Awards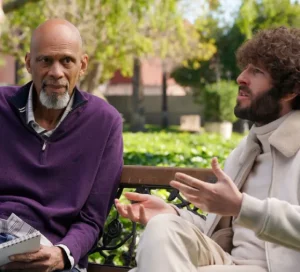 The success story of Kareem goes with the presentation of his achievements and different awards to his credit. Let's have a look:
He was awarded as the Most Outstanding Player in the NCAA Tournament (1967, 1968, and 1969).
He was also the first Naismith College Player of the Year in 1969.
He won the USBWA College Player of the Year and the Helms Foundation Player of the Year at UCLA.
He was once awarded the 'NBA Rookie of the Year by the Milwaukee Bucks.
He was awarded the NBA Most Valuable Player (MVP) thrice.
In 1996, Kareem was named among the 50 Greatest Players in NBA History.
Kareem was named one of President Bill Clinton's The Great Ones for National Sports Awards and was inducted into the Basketball Hall of Fame in 1995.
He has also been quoted by Pat Riley, Isiah Thomas, and Julius Erving as the greatest basketball player of all time.
ESPN has formally chosen him as the greatest center of all time, the greatest player in college basketball history, and the second-best player in NBA history
In 2011, he was presented the Double Helix Medal for his part in increasing awareness for cancer research.
He also received an honorary degree from the New York Institute of Technology.
In 2012, he was once chosen to be a U.S. global cultural ambassador by Secretary of State, Hillary Clinton.
He was awarded the Presidential Medal of Freedom in 2016 by President Barack Obama
Marriage
Kareem was married to Habiba Abdul-Jabbar, born Janice Brown.
However, they were divorced in 1978.
They had three children together:
Habiba,
Sultana, and
Kareem Jr.
His ex-girlfriend Cheryl Pistono gave him another son, Adam.
Read also: SSSniperwolf Net Worth: Renowned Gamer, YouTuber, and Social Media Personality.
Biography of Kareem Abdul-Jabbar: One of America's Greatest Basketball players.