Who is Bob Fitts? Bob Fitts, who is on God's mission to "Take My Healing to The Nations", is a songwriter and a lead worship artist, always accompanied by his wife, Kathy. He has been featured live (Bob Fitts live worship with Bob Fitts), severally on international platforms, and has recorded many gospel songs for over 35 years.
Indeed, Bob is one of the top gospel singers of the 20th century with over 15 songs to his name who's still doing well in the 21st century. However, He is popularly known for songs like "Blessed Be The Lord God Almighty", "I stand in Awe", "Take My Healing To The Nations", and "He Will Come And Save You". His Newest record of 2022 is "ABUNDANT".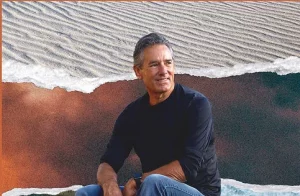 In 1988, after Integrity Music and Maranatha Music had listened to Bob Fitts's best song, "Blessed be the Lord God Almighty", the duo invited him for an album record. He joined them in their album production, and it was so amazing as the song blessed the world.
Bob Fitts Biography
Bob Fitts is from a Christian family of seven, the eldest. Bob's dad was a traveller and a minister of the Baptist church. Interestingly, it's on record that his father was a prayer warrior, and such a background influenced Bob to give his life to Christ at 6.
Read about Biography of Morgan Wallen  (Wallan): Famous Country Music Star
Bob Fitts Early Life and Education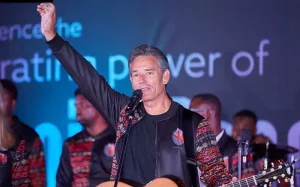 Bob Fitts was raised in California, and in the early 70s, he was very much committed to the service of the Lord. Bob began his music ministry at the California high school campus where he attended. He began to write songs and lead worship during a lunch service where students meet daily for prayers. Meanwhile, Bob Fitts music has become an international record label.
Bob met his wife, Kathy, in the same high school and later married.
At 17, he had already encountered the Holy Spirit, and he said, "The spirit took what was my limited understanding of what being a Christian was and radically changed my life".
Moreover, Bob Fitts obtained a Bachelor of Arts in Christian Ministry at The Melodyland School of Theology in Anaheim, California. Meanwhile, Bob was ordained as the Riverside Calvary Chapel youth pastor, where he ministered through worship. However, He later changed to a local assembly where he could get over holdbacks and began to live a new life.
Read about Danielle Jamison Biography, Age, Net Worth, Husband, and Instagram
Bob Fitts Wife | Bob and Kathy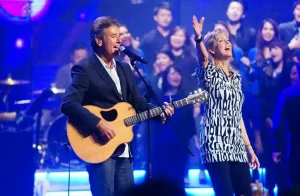 Bob Fitts is happily married to Kathy. Bob and Kathy attended the same high school in California and met to become lovers. After high school, precisely in 1976, they tied the knot, and till now, they are happily married.
In 1981, Bob moved his family from California to Kailua-Kon in Hawaii. He didn't relocate for fun but to work with the Youth With A Mission in the University of the Nations. As a dedicated servant of the Lord, Bob spent about 12 years leading in several Discipleship Training Schools (DTS) in Hawaii. Moreover, in 1990, he established the School of Worship, which extended across the globe.
Before they left California, Bob and Kathy got their first child, Andy, in their company to Hawaii. Bob has never neglected his responsibilities as a father and a husband by ensuring that his service to the Lord doesn't interfere with his commitment to his family. They gave birth to three children in Hawaii, Ryan, Garratt, and Mikella. Meanwhile, all of them are grown, and Kathy can travel the world with Bob to spread the Healing message and lift souls for the Kingdom.
Bob Fitts Age | How old is Bob Fitts?
Bob Fitts age is about 60years old in 2022. This age is just an estimated age calculated based on when he attended high school in the early 70s and when he got married to Kathy in 1976. Information concerning his date of birth is not yet available, but we will update it as soon as it's made available.
Bob Fitt Discography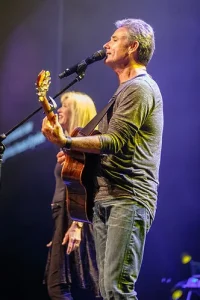 Bobfit gospel songs | Bob Fitts songs list | BobFitts full album
Abundant – Healing To The Nations Music 2019
Called To Worship – Healing To The Nations Music 2012 (compilation CD)
My Treasure – Healing To The Nations Music 2011
Restore – Healing To The Nations Music 2008 (recorded live in Corona, CA)
I Will Bow To You – Integrity Music 2001 (recorded live in Singapore)
I Will Not Be Afraid – International House of Prayer 2001 (recorded live in Kansas City)
He Will Save You – Integrity Music 1996 (live studio recording in Nashville)
A Taste of Heaven – New Creation Church 1995 (recorded live in Singapore)
Comfort My People – Healing To The Nations Music 1994
Proclaim His Power – Integrity Music1993 (recorded live in Nashville)
Bethlehem's Treasure – Integrity Music 1991
Sacrifice / Take My Healing To The Nations – Healing To The Nations Music 1991
The Highest Place – Integrity Music 1990 (recorded live in Kailua-Kona, Hawaii)
Live Worship With Bob Fitts – Maranatha! Music 1990 (recorded live in Long Beach, CA)
The Lord Reigns – Integrity Music 1988 (recorded live in Kailua-Kona, Hawaii)
For more, visit koksfeed