Charmaine Bey is an actress and a popular American radio and television personality who featured as the shop administrator of the tattoo studio 9Mag in the reality tv show " Black Ink Crew: Chicago" on VHI. Charmaine Johnise has been seen every Saturday and Sunday on a radio program featured on WGCI radio station.
Read about: Biography of Morgan Wallen  (Wallan): Famous Country Music Star
Quick Profile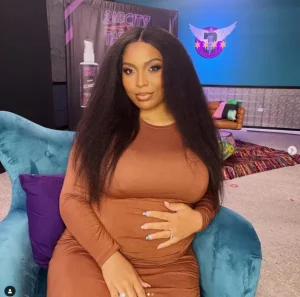 Full Name: Charmaine Johnise Bey
Birth Day: February 21, 1990
Age: 32 years
Place of Birth: Louisiana, United States
Zodiac Sign: Pisces
Profession: Actress, Radio and Television Personality
Gender: Female
Children: two daughters
Husband: Neek Bey
Sexual Orientation: Straight
Read about: Dytto Net Worth, Instagram, Age, Wiki, Husband, and Bio(Courtney Nicole Kelly)
Charmaine Bey Biography
On February 21, 1990, Charmaine was born in Louisiana, the United States of America, under the zodiac sign Pisces. She is 32 years old in 2022, holds American nationality, and belongs to the African-American ethnicity.
Her parents, who are currently late, were Michael Walker (father) and Glendal Walker (mother). She shared a great bond with her Mom while she was alive, which is obvious through her pictures on social media.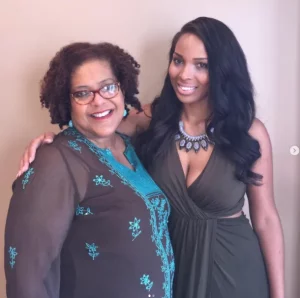 Her mother died in October 2019 from a heart attack. After two years, her father also died, suffering from esophageal cancer, and was diagnosed with stage 4 cancer in June 2021.
However, no information exists about her siblings as she has not disclosed any details about them. As for her education, Charmaine studied at Howard University and graduated with a Bachelor of science.
There is no information available regarding her childhood. But, with such a wonderful and caring family, she must have had a wonderful upbringing. On May 18, 2012, she posted her first childhood photo with her grandmother. She has had a fascination with tattoos since she was a child. On November 30, 2013, she got her fourth tattoo. She appears to be a foodie based on her profile, including numerous food photos.
Career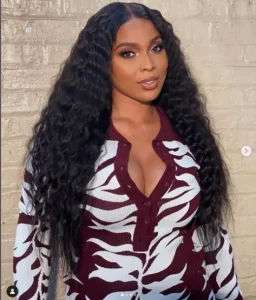 Charmaine started her career when she first took a job as a studio administrator at a tattoo shop at 9MAG, Chicago, popularly known for its exceptional skills and services and collaboration with celebrities.
Charmaine featured in the African-American reality tv show " Black Ink Crew," premiered in 2013 on VHI, which was later changed to " Black Ink Crew, Chicago" after her entry. Her appearance on the show landed her great popularity.
Besides that, Charmaine is also a radio personality who also worked at the WGCI radio station as a host. Her show ran only on Saturdays and Sundays.
She also owns a website on which she sells aprons, cookbooks, dresses, and merchandise.
Charmaine maintains a good level of confidentiality, and so she has never recorded any case of rumor or been involved in any controversy.
Read about: Alessandra Ambrosio Biography: Brazilian Supermodel and Leggy Youngster.
Charmaine Bey Net Worth
As an accomplished actress, Charmaine Bey surely earns from her career and endeavors. Her net worth has been estimated to be between $1 to $5 million, even though we are yet to know her monthly income.
Charmaine Bey Husband | Kids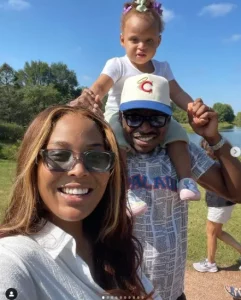 Neek Bey, Charmaine Johnise's co-star on the same show 'Black Ink Crew,' was in a deep and devoted relationship with her. They began dating in 2016 and were together for a long time. Finally, after three years of dating, they decided to take their love to the next level, marrying in 2019.
On March 14, 2020, the couple welcomed their first child, Nola Glenda Bey, during the pandemic. On December 4, 2019, she also uploaded a video of her baby's heartbeats during an ultrasound. The young girl's arrival has brought the Bey family a great deal of joy. Neek, as a father, frequently posts on Instagram about the great bond he shares with his child. Nola is now a year and a half old.
Charmaine Bey Height | Weight
Charmaine Bey is 5 ft, 5 inches tall and weighs about 68kg. She is brown in complexion with black eyes and also black hair. That is all for now as we don't have full details of her body features.
Charmaine On Instagram | Facebook | Twitter | Facebook Page
Charmaine Bey is highly active on social media through her accounts on Instagram, Twitter, Facebook, and her joint account on Tiktok with her husband, Neek Bey.
On her Instagram handle, @charmainebey, she has accumulated over 1 million followers and 1,473 posts on her account.
She has about 44.4 thousand followers on Twitter and about 346,000 followers on Facebook with Charmaine Johns.
Her Tiktok account managed alongside her husband under Charmaine, and Neek Bey (the beys) has accumulated around 65.3 thousand followers.