Tracy Spiridakos who was born to Greek-born parents in Winnipeg, Manitoba is one of the most popular and talented actresses in Canada whose outstanding skills cannot be hidden.
She rose to prominence through her remarkable roles as Becky Richards in the TV comedy series "Majority Rules!" from 2009 to 2011. Tracy is also popularly known for the role she played as Charlie Matheson in the drama series "Revolution" which ran from 2012 to 2014. Tracy indeed has built a successful career in acting through her various roles.
Tracy Spiridakos Instagram
Tracy has gained over 400k followers on her verified Instagram page where she posts her comic and personal photos.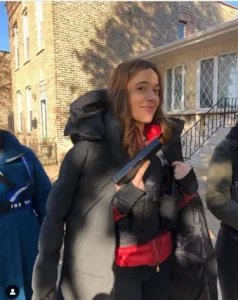 Tracy Spiridakos Wikipedia: Biography, Early life and Education
Tracy Spiridakos was born on February 14, 1988, in Winnipeg, Manitoba Canada to her Greek parents and into a family of five: George Spiridakos; (father), Anastasia Spiridakos; (mother) and two brothers.
She initially spent her early childhood in Canada, before her family relocated to Skala, Greece, her father's hometown.
As for her education, Tracy attended Oak Park High School in Winnipeg, when her family later relocated back to Canada. She later enrolled at the Actors Training Centre of Manitoba.
Tracy Spiridakos Age
Tracy Spiridakos is 34 years old in 2022. Her birthday is valentine's day of every year (14 February).
Tracy Spiridakos Career 
On completion of her education, Tracy needed a place that would favor her to launch her acting career and so she relocated to Vancouver which she deemed to give her options.
As fate would have it, she was lucky to be given a minor role in the TV series "Supernatural" in 2007.
That same year, she also took minor roles in TV series such as "Bionic Woman", and "Aliens in America".
Remarkably in 2009, she was chosen for a role in the TV comedy series "Majority Rules!" as Becky Richards ran from 2009 to 2011. The series was a very successful one that made her renowned and Tracy began to rise to stardom.
Achievements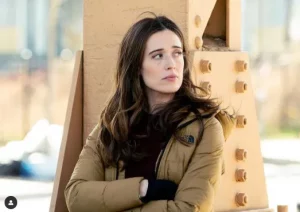 With obvious gradual improvement in acting, Tracy was given the role of Charlie Matheson to play in the TV series "Revolution" which ran from 2012 to 2014.
Her part all turned out well and then it set Tracy on the path to the status of a star. It did not stop with the TV series. Other of her remarkable appearances followed such as in the TV series "Bates Motel" as Annika Johnson in 2015, and in the TV series "MacGyver", as Nikki Carpenter from 2016 to 2017.
Her breakthrough aside TV roles came in 2017 when she was given an important role to play as Hailey Upton in the TV crime-drama series "Chicago PD" which ran from 2017 to 2019, thereby featuring 47 episodes of the award-winning series.
Thereafter, Tracy was a character in these films, "Chicago Fire" and "Chicago Med". To throw more light on her successful acting career, Tracy is producing a romantic comedy film "Byrd and the Bees" that would be released any time.
Tracy Spiridakos Husband and Kids
Currently, Tracy is dating singer-songwriter Justin Ruane, the romantic relationship, which probably began in 2016 as that was when they were seen together.
Before their relationship, Tracy was the fiancee of actor Jon Cor. She was engaged to him in 2012.
Alongside Jon Cor, they co-starred in various projects such as in the film "The Boy She Met Online". Unfortunately, they later went their separate ways, and the reason for that was not disclosed.
Tracy Spiridakos Body Measurements
Tracy stands at the height of 5 feet 6 inches (168cm) and weighs 123lbs (56kgs). She measures 36-24-35 inches with a bra size of 34B. She is endowed with blue eyes and blonde hair.