Kim Seon Ho Biography: A Sharp Investor In tvN Drama.
Seon-Ho is a popular South Korean TV actor, music artist, model, a songwriter who was raised in Seoul city, South Korea where he was born on eight May 1986. He became famous with the South Korean television series and became more popular for his contribution to the Hometown Cha-Cha-Cha TV series.
With the tvN drama Start-Up, Kim Seon-Ho was nominated for the Baeksang Arts Award for Best Supporting Actor. Kim played a role in the tvN drama Start-up and now it has become one of the highest-rated television series in Korean cable television history.
Kim Seon Ho performed publicly as an actor in 2009 at the Seoul Institute of the Arts with his theatrical work. In 2017, he publicly performed in a television series, "Good Manager", for the first time, as Sun Sang-Tae.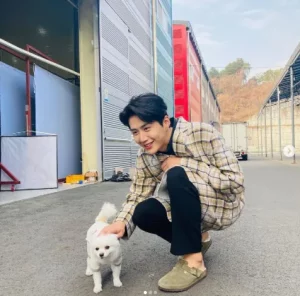 Hong Du Sik portrayed by Kim Seon-ho won the hearts of many through the wonderful part played well. His actions proved his professionalism and Hometown Cha-Cha-Cha became one of the highest-rated cable dramas.
In his second lead role of charming CEO, Han Ji Pyeong, He acted as a sharp investor with a tragic past in tvN drama 'Start-Up'. tvN drama is well-received by viewers around the world, and this catapulted him to prominence.
Get to know:
Kim Seon Ho: Biography, Profile, Early Life, Education, Career, Achievements, Girlfriend, Wife, Family, and Awards
Here are more things you need to know about Kim Seon-ho, a talented Korean actor:
Profile of Kim Seon Ho
Early Life of Actor Kim Seon Ho
Education
Career
Kim Seo-Ho Achievements
Awards
Relationship
Kim Seon Popular TV Series List
Early Life of Actor Kim Seon Ho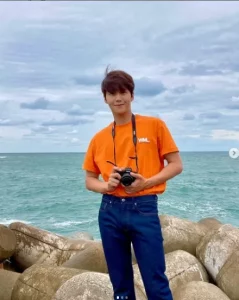 Actor Kim Seon-ho was born on May 8, 1986, in Seoul, South Korea as the only child of his parents. He was nicknamed dimple prince because of the charming dimples he inherited from his auntie as he would say.
He had to go through emotional trauma at a very young age after witnessing his mother wound up being stabbed with a knife by a burglar that invaded their house.
This resulted in him feeling uneasy whenever someone stood behind him and also having trouble breathing in crowded places.
However, he was able to break free from this trauma when he started following his friends to their auditions and he was prompted to attend acting classes.
Education
Kim graduated from high school, and then further enrolled at the Seoul Institute of the Arts where he received a degree from the Department of Broadcasting and Entertainment.
He started acting plays in college when he joined a theatre group." New Boeing Boeing" (an adaptation of the French play of the same name) was his first stage role which he repeated in 2013.
Read also: Profile Of Femi Otedola and Net Worth: The Great Man of Influence
Career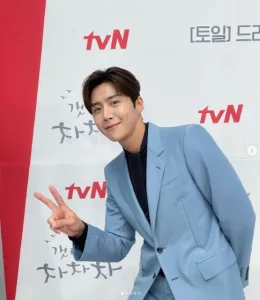 Kim Seon-ho, known as a popular South Korean actor started his career right in college precisely in 2009 as a theatre actor with the play New Boeing Boeing.
This was followed by several other plays such as Rooftop Cat, Sherlock, and Kiss of the Spider Woman.
Early in 2017, he was recommended by director Lee Eun-jin after he saw his performance in the play "Closer" in 2016 for a K-drama.
Kim passed his first audition for that K-drama, Good Manager (aka Chief Kim), with a supporting role, appearing for the first time as a TV actor.
That same year, he was auditioned for a minor role in "Strongest Deliveryman", however, he was cast in the main role-playing a chaebol (conglomerate heir) in the drama.
Kim Seo-Ho Achievements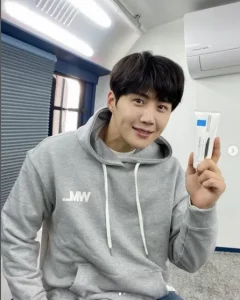 He nailed it also in 2017 when he starred in the action-comedy "Two Cops" opposite Jo Jung-suk. This earned him two awards at the 2017 MBC Drama Awards.
In March 2018, he was cast as the male lead in the MBC romantic drama special "You Drive Me Crazy". Subsequently, he starred in the historical drama "100 Days My Prince".
This turned out to be one of the highest-rated dramas in Korean cable television history.
2019 was the JTBC comedy "Welcome to Waikiki 2" in which Kim played an aspiring singer. He also starred in his first leading role in the tvN police crime full-length drama "Catch the Ghost" opposite veteran actress Moon Geun-young.
That same year also saw his first episode of 2 Days & 1 Night. He was actually confirmed as a fixed cast member in the fourth season of the long-running KBS World broadcasting network variety show in 2019.
On December 8, 2019, the show aired with Kim Seon Ho alongside VIXX's Ravi, rapper Din Din, comedians Kim Jong Min and Moon Se Yoon.
He indeed displayed his pure and innocent nature and this granted him a clip dedicated to 'Kim Seon Ho's variety rookie moments on YouTube', This has since accumulated over 730,000 views.
In 2020, Kim Seon-Ho rose to prominence after appearing in the tvN/Netflix drama "Start-Up" and more recognition in 2021 Hometown Cha-Cha-Cha.
Read also: SSSniperwolf Net Worth: Renowned Gamer, YouTuber and Social Media Personality.
Awards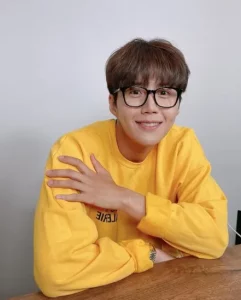 Below are several awards his successful career has credited him:
MBC Drama Awards in 2017
KBS Drama Awards in 2017
Asia Artist Awards 2020 as Best Emotive Actor and Popular actor
Asia Model Festival 2020 as a Model Star
KBS Entertainment Awards in 2020
Baeksang Arts Awards in 2021 as the Most Popular Actor and Best Supporting Actor – Television
Brand Customer Loyalty Awards in 2021
Korea Broadcasting Awards in 2021
Seoul International Drama Awards in 2021
Kim Seon Ho Girlfriend
Who is Kim Seon-Ho's girlfriend? Kim Seon is a very handsome, talented, and successful actor who is admired by many female viewers, and we hope that one day one single woman will find him for dating. However, for now, he is single and there is no girlfriend.
Who is Kim SeonHo's wife? Kim is not yet married, so he is currently single.
Did Kim Seon-Ho have a girlfriend before? or Who was Kim Seon-Ho Ex-girlfriend.
His ex-girlfriend, influencer Choi Young Ah, has accused him in some ways. In His letter, he has revealed his plan to marry her.
Kim Seon Popular TV Series List, Reality show and Music videos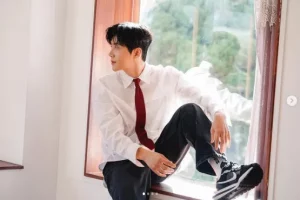 Strongest Deliveryman & Good Manager in 2017 with KBS2
Two Cops from 2017-2018 with MBC
You Drive Me Crazy in 2018 with MBC
Your House Helper and FeelGood To Die, in 2018 with KBS2
100 Days My Prince in 2018 with the
Welcome to Waikiki 2  in 2019 with JTBC
Catch The Ghost in 2019 with the
Find Me in Your Memory in 2020 with MBC
Start-Up  in 2020 with the
Run On in 2020 with JTBC
Hometown Cha-Cha-Cha in 2021 with tvN
Reality show – 2 Days & 1 Night from 2019-2020 with KBS2
Reality show – MBC Gayo Daejejeon in 2020 with MBC
The reason" (Vocal by Kim Seon-ho) in 2021
Read also: Jane Musky Biography: Top Artistic and Production Designer in the Hollywood
Kim Seon Ho Biography: A Sharp Investor In tvN Drama.